Today's E-Paper
MD Shots
E-Paper
Shots
Get Your Mid-Day Gold Yearly Subscription now at
Rs 899

Rs 499!
Updated on:
23 February,2023 07:12 AM IST &nbsp|&nbsp Mumbai
Clayton Murzello
Among the many views expressed on Australia's shambolic batting, the ones from ex-captains Ian Chappell, Allan Border and Mark Taylor have merit since they have scored runs in IndiaThe Australians await a DRS verdict during Day One of the second Test against India in New Delhi on February 17. Pic/Getty Images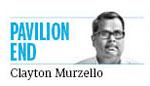 The
Australian cricket team's
mid-series report card isn't a sight to behold. Further failure is a possibility on such challenging pitches against a well-blended bowling attack.
One of the several points of criticism the tourists have copped is their decision not to play a warm-up game and I wonder if the repercussions of the decision to opt for nets in Bangalore and not spend match time were factored in before the Australians landed in
India
.
Head coach Andrew McDonald has justified the no-tour game call in his recent utterances, even as former captain Michael Clarke and ex-coach Darren Lehmann believe that it was a blunder. Tour games are meant to get a feel of the conditions and not just the pitches.
The loss at Nagpur was followed by another three-day Test in New Delhi. To say that the Australians are well and truly on the mat is as obvious as saying that wrestling is a combat sport. Apart from dealing with the ignominy of surrendering the Border-Gavaskar Trophy to India for the fourth time in a row, they have to deal with what modern players call "outside noise."
There is absolutely no shortage of opinions whenever Australian cricket encounters a wave of adversity. Their former stars are either contracted with television networks or radio stations and their views get reported by the media. In addition to that, a lot of their past masters are accessible to the print media.
The ex-greats get stuck in, tell it like it is, and their captains of bygone eras crack the whip even at the risk of being reminded that they led teams too and had their bad days.
Also Read: Stats of the matter!
When Ian Chappell, who led Australia from 1971 to 1975, was critical of Kim Hughes's captaincy in the early 1980s, he was told by a Hughes supporter that he shouldn't be so hard on the West Australian, considering he knew how tough the job was. Chappell's response came in the form of a reminder. He stressed that firstly, he was not the Australian captain and two, it was his duty as a commentator and writer to tell his viewers/readers the truth.
Chappell hasn't been diplomatic in Australia's latest crisis. No one can accuse him of calling for performances, which he didn't accomplish on the sub-continent.
He scored 300-plus runs in five Tests on the tour of India in 1969-70 against a spin attack comprising E A S Prasanna, B S Bedi, S Venkataraghavan. It was a series that India lost 1-3 to Bill Lawry's team. 
Chappell was often asked how Australia managed to beat that strong M A K Pataudi-led Indian team. He revealed his response on Cricket in the 1970s documentary: "Because we had batsmen who could play spin bowling. And we always believed we could win the series because we could make enough runs even though we were facing terrific spinners on pitches that turned a lot."
Allan Border too has been blunt in his views on how Pat Cummins & Co played in Delhi. "I'm angry about the way they went about it today," Border told Fox Sports, referring to Australia's 61-1 to 113 all out collapse in the capital on Sunday. Border also expressed his ire when he saw Steve Smith appreciate a delivery from Ravindra Jadeja, who had just beaten him in the Nagpur Test.
Like Chappell, Border scored plenty of runs in India. He plundered 500-plus (including 162 and 50 at Chennai) in the 1979-80 Test series, playing under Hughes. When he was captain in the 1986-87 series, he smashed 245 in four innings to average 81.67. In his 1986 autobiography, Border revealed that he fell ill seven to eight times on the tour, despite being most careful about what he ate and drank.
Mark Taylor, who took over the Test captaincy from Border in 1994-95, is appalled over the sweep shots that caused Australia's early demise at New Delhi. To him, Steve Smith had no business in playing the stroke. "The dismissal that shocked me the most was Steve Smith playing that sweep shot because it's not a shot he plays often. That looked a shot of desperation to me," Taylor said on 2GB's Wide World of Sports Radio.
Taylor made two Test tours to India—in 1996 for the one-off Test game in New Delhi where the first Border-Gavaskar Trophy was held, and the 1997-98 tour, which Australia lost 1-2 to Mohammad Azharuddin's team. After scores of 12, 13 and 3, Taylor found some touch in the second innings of the second Test at Kolkata, where he scored 45 before he was run out. Taylor enjoyed playing in front of a large Eden Gardens crowd and wrote in Time to Declare how he wished the result (an innings and 219-run loss) would have been a "little kinder." He admitted that his team "got their bums kicked." The Aussies regrouped well in the third and final Test at Bangalore and won despite India scoring 424 in their first innings, aided by Tendulkar's 177. Taylor led the way with a second innings 102 chasing 194 after India were dismissed for 169 in their second innings.
"I finished on a neat 102 not out, a most satisfying personal conclusion to a tour in which we had been had been beaten—but had shown fighting qualities, against the odds, at the end," Taylor wrote.
The opinions of the above three captains are not only aligned with logic, they have scored runs in this part of the world.
In the midst of criticism and ridicule, the Australians must try and pick out some aspects of the tough talk spoken by their erstwhile achievers and indulge in some soul-searching. There is little to be gained by totally ignoring the opinion givers.
Some of the outside noise can be useful for Indore. Pun very much intended!
mid-day's group sports editor Clayton Murzello is a purist with an open stance.He tweets @ClaytonMurzello. Send your feedback to mailbag@mid-day.comThe views expressed in this column are the individual's and don't represent those of the paper.
• This is our original content. Please fill up the form for authorized use of the content.
Captcha Code
Captcha Code
>
ADVERTISEMENT
ADVERTISEMENT
ADVERTISEMENT
source