IND vs AUS:
Behind the practice nets tucked in the corner of the ground are wooden benches in bright blue and yellow shades under grey concrete roofs, standing out like relics amidst plastic seats and glassed, air-conditioned boxes beneath canopy-roofs. The contrast captures the soul of Indore— a modern but self-contained city that blends imperceptibly with its storied, royal past, that is yet to embrace the garish opulence of most aspirational cities in the country.
The ambience makes everything around it feel quieter, even a touch lazier. You could hear the graze of stud marks on earth as Rohit Sharma and Shubman Gill strolled into the nets, the firm thud off the bat on the turf, the excited whisper of the net bowlers, restlessly tossing the ball in their hands to display their craft against two of the finest batsmen around, two most graceful stroke-makers in the world. The net bowlers, mostly in their late teens spotting scraggly stubbles, converged beside the nets where Sharma was batting. But soon their collective gaze would fix on Gill.
For the next hour or so, Gill made the eyes of scattered onlookers converge into him with a blaze of sumptuous strokes, as fulfilling as any net session would be, offering a peep into his boundless talent and irresistible touch. So much so that he made people forget that Rohit was batting beside him, he made people stop their work and watch him bat, not even in a real match but during an optional practice session. Even Rohit would throw appreciative glances at his colleague.
Snapshots from
#TeamIndia
's training session here in Indore ahead of the third Test match against Australia.
#INDvAUS
pic.twitter.com/yLmoBLxfYG
— BCCI (@BCCI)
February 28, 2023
Whether Gill plays the Test or not is uncertain — in a sense it is pointless to debate or dwell too long if he should or not — but the appeal of his batting is irresistible, endowed with a hypnotic quality that pulls you into them. Gill could make you marvel even with his leaves, even with his stance. Tall and upright, the upper body leaning forward, bat held firmly but not stiffly, beside his back leg, the alignment of his body micro-honed to perfection, almost a statue-like symmetry, a photograph of his stance from side-on could don the walls of an art gallery.
The movements are measured to perfection, but without a scintilla of artificiality. To the pitched-up ball, the front-foot strides out. Whereas in the past, he did have a tendency to play from the crease, letting his reach and hands bail him out of danger, these days the front-foot stride is more definite and longer. It's when he meets the ball that his real genius unfurls. He would instruct the net-bowlers to pound the innocuous between the good-and-full length areas on the fifth stump. Some he would defend, some others he would crunch through covers, flexing his back-knee, almost scrapping it on the abrade surface. The same balls, he would drive down ground, either side of the bowler. No one in the nets on Tuesday struck the ball as sweetly melodiously, as he did. Often, he would stare at Vikram Rathour, perched beside the net bowlers. Rathour would just keep nodding in a pleased manner. Apart from a couple of instances, the batting coach had hardly any advice to offer Gill.
Shortly, he shifted the gears, from steady to supersonic, pulling and cutting, along the ground and in the air, even short of good length balls. He would jink down the track to the spinners and loft them into the stands over the head and beyond the enclosure where head coach
Rahul Dravid
was overseeing a close-in catching drills. Screams of "watch out, watch out," would cut through the wispy forenoon breeze.
Often, Rohit would chuckle from the nets side-by, though Gill, wrapped in a bubble of intense focus, heard nothing. Rohit batted chaotically, edging a brace of on-the-rise drives, and getting beaten in the flight when stepping down. There was a casualness about Rohit's batting, maybe perhaps it was an optional session, and he knows that he is in fine touch in the series. It's not a luxury Gill could afford, for whom even an optional batting nets session is an opportunity to stake his claims, to reassert his touch, to put another foot forward to sealing a Test XI spot.
If he indeed replaces Rahul in Indore — just because he had been batting rigorously in the nets for the last couple of days, and Rahul was not spotted on Tuesday does not suggest that he would certainly replace the incumbent opener — it would be because he is too irresistible a talent to be resisted any longer. His touch has been so gorgeous that it could overshadow the tough runs Rahul had made in orchestrating two of India's most memorable wins abroad in recent times. It's not that Rahul, himself a precious talent, should be given an extended rope, but just that Gill is riding through a rich vein of form that could no longer be ignored, which he has been illustrating in every competitive outing, and even in non-competitive ones like optional nets. His third last Test innings was a third-innings hundred in Bangladesh; his last four ODI knocks read 116, 208, 40 not out and 112; his last T20 outing yielded 126 not out. He has not nudged and knocked at the doors of a Test spot, but barged through the doors.
The dilemma of Rohit and the team-management is understandable. To drop or not to drop a batsman they trust to crack the consistency code but riding through stormy times for another gifted batsman who is in golden touch. The team is winning, and maybe Rahul, a batsman they have invested so heavily, could be given another shot at redemption. The other side to the logic is that, an in-form batsman would make a great team look greater. Opening is one of the few spots that remain a concern in this team, now that
Virat Kohli
too has shown signs of rediscovering his Test-match touch.
The Gill or Rahul question has dominated press conferences since Rahul's failures in Nagpur and
Delhi
. The stripping of vice-captaincy seemed another clear sign of Gill's comeback, though Rohit, now bored of the question, dead-batted another prodding in his latest press conference. "I spoke about it after the last game as well. Players who are going through a tough time, given their potential they will be given enough time to prove themselves." he said.
A touch irritated, he added: "Being vice-captain or otherwise doesn't tell you anything. At that point in time he was the vice-captain. His removal as vice captain doesn't indicate anything."
Perhaps it would not indicate anything, but if Gill displaces him in Indore it would be not so much of the team management's waning faith in Rahul's abilities as the un-ignorable talent and touch of Gill. Even the wooden benches in blue and yellow beside the nets could tell how supremely he batted in the nets.
Writer Vinod Kumar Shukla wins 2023 PEN/Nabokov Lifetime Achievement Award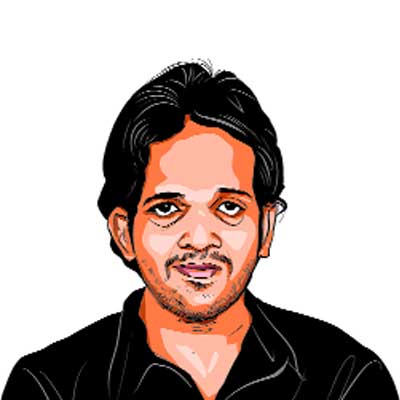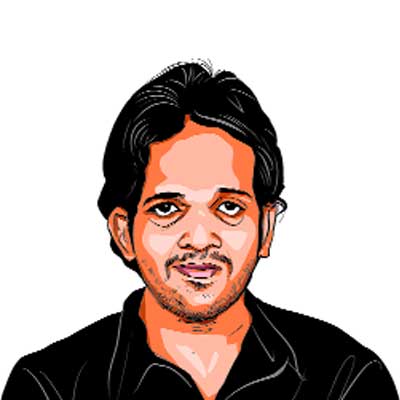 Sandip G
…
read more
source